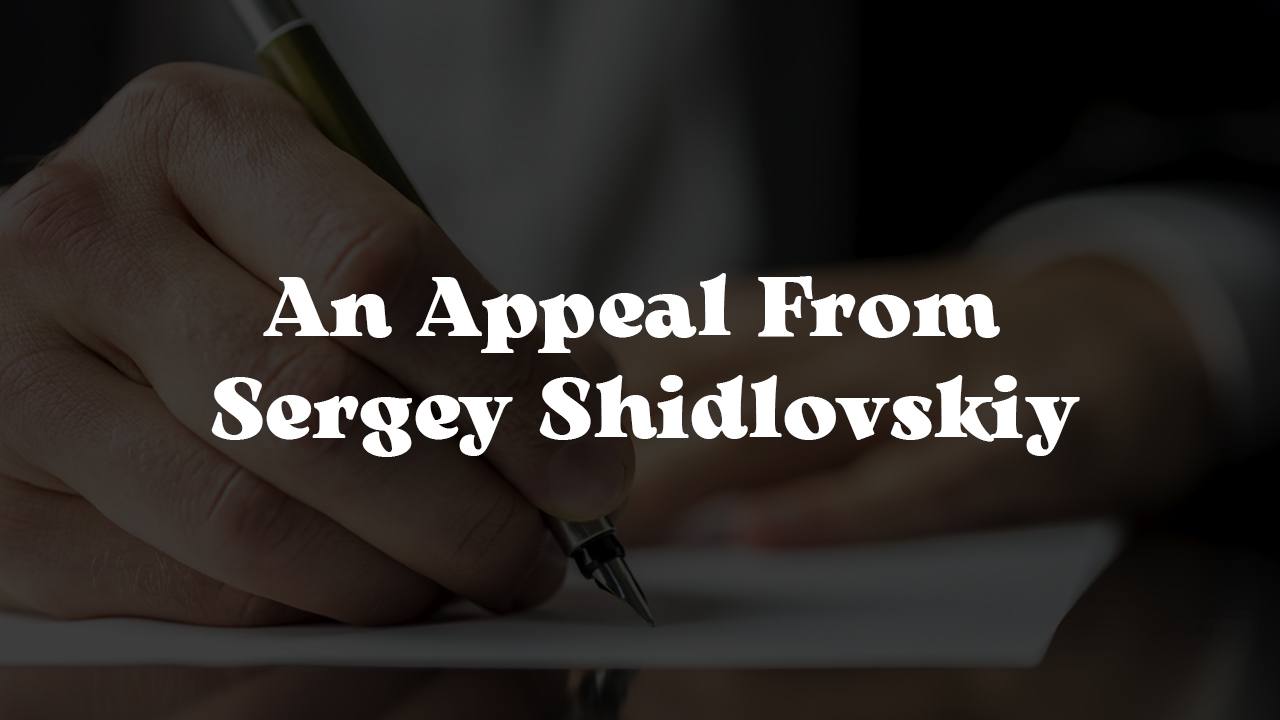 Sergey Shidlovskiy regarding the activities of Maksim Torgashov, head of the charity organization «House of Mercy» (Halastusmaja MTÜ).
An appeal to the pastors and churches of Estonia, to the local government of Aseri village and Viru-Nigula Parish (Estonia), to the leadership of the non-profit charitable organization ToiduPank, to partners of the International Prayer Movement "God Seekers Movement," to partners of the charitable organization «House of Mercy» (Halastusmaja MTÜ) and to everyone who has been affected or may be effected in the future.
The reason for this appeal was a letter from the inhabitants of the village of Aseri (Estonia). Below I provide an abbreviated text of the letter.

CLICK HERE TO READ A FULL VERSION
APPEAL FROM ASERI RESIDENTS TO SERGEY SHIDLOVSKY

Dear Pastor Sergey Shidlovskiy,

We, residents of Aseri, appeal to you to expose Torgashov's activities in the eyes of the public, whom he misleads, diligently creating for himself a reputation as a charitable benefactor and a Christian. In real life, the words and actions of Maksim are not consistent with the image of a believer. <…>

In the village there are a lot of people offended and humiliated by him, many of whom he threatened and intimidated. <…> Also, we believe that Christianity and charity for Maksim are just a cover for making money. <…>

We ask you to open the eyes of the public, the churches that support him, and the people who donate finances to him, thinking that they are doing a good deed, that who Maksim Torgashov actually is in reality is a disgrace for all Christians.

Respectfully yours, Aseri residents.
Brief Description of the Situation.
With sorrow in my heart, I must confirm that the letter from Aseri residents regarding Maksim Torgashov has substantial foundation. Until today, I have refrained from making such a statement, again and again giving Maksim a chance for repentance, and showing mercy to him.
During our time living in Aseri, we saw that Torgashov systematically displayed:
Creating an image on social networks and personal communication with the appearance of a Christian minister and charitable benefactor but in reality, in rude violation of Christian ethics and morality.

Lying to local residents and Christian ministers, often with the aim of creating conflict between them.

Inability to get out of conflicts, and instead, blocking people on networks and on the phone.

Using the finances of the ministry for personal gain (as a result, our mission was fined by the Estonian tax service).

Unwilling to be financially accountable.

Love of money.

Cunning: making money by deceiving team members.

Involving Christians of various churches in his sins through requests for help to cover up his financial fraud.

Outrage: disrespect for leadership.

Harshness and rudeness.

Flattery for selfish motives.

Abuse of power in relation to ministers of our team and rehabilitants.

Cunning and the ability to plausibly pretend.

Intimidation of those who know the truth about him (including through audio recording of private conversations and telephone conversations).

Vindictiveness.
Based on the above, after the execution of the Biblical order of reproof and correction, I CALL Maksim Torgashov to stop any Christian and charitable work in order to undergo rehabilitation. I believe that his return to Christian service and charity is possible only if the truth of repentance is proven by fruits over a long period of time with confirmation from several recognized pastors who are ready to take responsibility for it.
Until This Happens:
I ask the pastors of Estonia and other countries to stop all interaction with Maxim Torgashov on the basis of 1 Timothy 3:1-11 and 2 Timothy 3:1-5.
I ask the government of Aseri village and Viru-Nigula volost (Estonia) not to support Maxim Torgashov's charitable projects with finances or other means.
I ask ToiduPank to stop distributing food aid through his organization.
I ask charities to stop supplying him with humanitarian aid.
I ask the partners of the charity organization «House of Mercy» (Halastusmaja MTÜ) to stop financial support.
I ask Christians to unsubscribe from his pages on social networks, etc. the information on them does not correspond to reality.
I leave everyone the right to act according to their own conscience.
From personal experience, I have experienced that support and communication with Maxim Torgashov negatively affects your reputation, and by this we prevent changes in his life, and moreover, we participate in his sins. Without holiness no one will see the Lord (Bible. Hebrews 12:14).
Sergey Shidlovskiy, founder and leader of the International Interfaith Prayer Movement "God Seekers Movement"
The Appeal was supported by:
Spiritual Council of the International Prayer Movement "God Seekers Movement"
Dmitry Semenov, Pastor of the Estonian Methodist Church in Aseri (Aseri, Estonia)
Yan Shapovalov, Director of the Charitable Foundation "Revival" (Estonia), former leader of Maxim Torgashov during his rehabilitation
Sergey Tovashov, Head of the Rehabilitation Center «Revival» (Aseri, Estonia)
Stanislav Osipov, Pastor of the Methodist Church (Tallinn, Estonia), first pastor of Maxim Torgashov